WELCOME TO
GRABOUSKI CHIROPRACTIC
Dr. Justin Grabouski is a family chiropractor in Overland Park with 14+ years providing the very best in chiropractic care.
Where Health And Wellness Meet Community And Care
Our goal at Grabouski Chiropractic is to help our community achieve health and wellness by providing the very best in modern, gentle, results-driven chiropractic care to patients of all ages.
Dr. Justin Grabouski, Overland Park chiropractor, is proud to serve families in Overland Park, Olathe, Leawood, and Johnson County, KS. Dr. Grabouski is a Doctor of Chiropractic (DC) specializing in corrective chiropractic care, with emphasis on back pain, neck pain, headaches & migraines, infertility, prenatal & pediatrics, scoliosis, sports injuries, car accident injuries, senior care, wellness, and more.  
Our team at Grabouski Chiropractic would be honored to care for you and your loved ones. Thank you for choosing us as your chiropractor in Overland Park!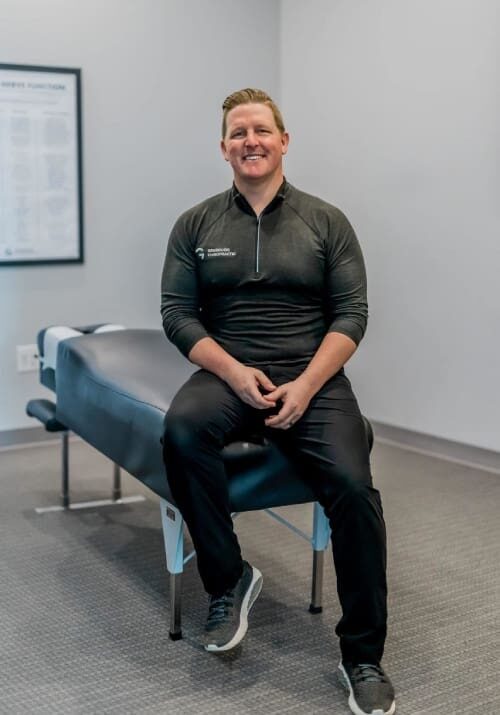 200+ 5 Star Google Reviews
"I am so happy to write a review for Dr. Grabouski and his staff, McKenna and Jordan. The office is space is clean and I am always greeted with a smile and by name. I look forward to going. The really make me feel special - like they want to know me and want to help me. The chiropractic work from Dr. Grabouski has been so helpful. I saw improvements as soon as my second visit. Dr. Grabouski is so kind and always happy to see me. I cannot say enough good things about this office and the work they have done for me. No wonder this office has so many wonderful 5-star reviews! Thank you for all you have done for me."
"I don't even know where to start! Dr. Grabouski and his staff are AMAZING. As soon as you walk in the door, you are greeted by Jordan and McKenna, who are professional and warm. They seem to know every patient by name and stay on top of everything even when the office is full.."
"Justin has a serious gift for adjusting people's bodies. He helped me through my recovery from an injury and aligned my low back to near-perfect after two short months. Not to mention he and his staff are so kind and accommodating — highly recommend!!"
Complete Family Chiropractic Care
Grabouski Chiropractic is a chiropractic office in Overland Park, KS, dedicated to
providing the best chiropractic care for your entire family, from infants and children to adults and seniors.

Top-Rated & Trusted National Top 25 Chiropractor
Dr. Grabouski was 1 of 25 doctors in the nation to receive the Pinnacle Award for Top 25 Outstanding Doctors in America for the sixth year in a row for his "outstanding achievement and contribution to the chiropractic profession and community."

Award-Winning Chiropractic Clinic
Grabouski Chiropractic was voted 2022 Best Chiropractic Clinic in Johnson County by our patients and community in the Shawnee Mission & Blue Valley Post.
Call (913) 851-5188 to schedule an appointment, or New Chiropractic Patients may complete the form below to schedule an appointment at a time that is convenient for you.
For SoftWave Therapy please call (913) 851-5188 to schedule your first appointment.