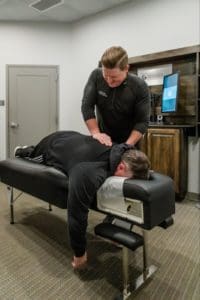 If you have been in an accident, even a minor one, you may have experienced injuries that will follow you for a lifetime. Even if you currently have no symptoms, visiting a chiropractor for care after a personal injury is a smart move that can help you heal now and avoid complications later.
What Does A Chiropractor Do?
Dr. Justin Grabouski explains that a chiropractor can help alleviate pain without using pain-relieving medications. Through gentle spinal manipulation, chiropractic care after a personal injury can also lessen inflammation and restore range of motion. Further, chiropractic is a non-invasive process that's less expensive than surgery and requires no downtime.
Whiplash And Chiropractic Care
Spinal manipulation can help with many types of injuries. In the case of a vehicle accident, for example, a chiropractor can treat whiplash. Dr. Grabouski says that whiplash may not present symptoms immediately after an injury. It might be a few days before an injured person notices significant changes in their pain level. Whiplash can present as stiffness in the neck and headaches that move up toward the forehead from the base of the skull. Many people seek chiropractic care after a personal injury to treat whiplash after noticing numbness and tingling in their arms and extreme tenderness and discomfort in their neck, upper back, and shoulders.
Immediate Benefits
Because chiropractic care deals with the central nervous system, people receiving chiropractic care after a personal injury may experience immediate benefits, including reduced inflammation and lower pain levels. A chiropractic manipulation works to specifically target areas that may have been damaged during an impact accident, which might include a fall, sports injury, or vehicle collision. These types of injuries can misalign the vertebrae, and an adjustment can put them back into place.
Personal Injury Chiropractic
Those who have been injured can visit a chiropractor immediately. Even if x-rays don't pick up damage – microtears in tissue won't show up – a chiropractor can help sidestep major complications and accelerate the healing process. In addition to whiplash, accidents can cause significant damage to the tendons, ligaments, muscles, and bones of and surrounding the spine. Dr. Grabouski offers treatment services for such issues as herniated discs, soft tissue injury, vertigo, hip and leg pain, foot and knee pain, and wrist pain.
More Than Chiropractic
Grabouski Chiropractic maintains relationships with physical therapists, neurologists, MRI facilities, orthopedic doctors, and personal injury attorneys. We can work with these and other providers to ensure that our patients receive comprehensive care after an accident. Our expert staff will also work directly with your insurance provider to confirm benefits, which are often covered after an automobile accident.
If you've been in an accident, contact Grabouski Chiropractic today. Schedule an appointment online for a day and time that works for you.