SOFTWAVE THERAPY 
GRABOUSKI CHIROPRACTIC
Overland Park's Premier SoftWave Provider Helping You Heal At The Cellular Level
Overland Park's Premier SoftWave Provider Helping You heal at the cellular level.
SoftWave Therapy uses revolutionary shockwave technology to reach an injured area at the cellular level to successfully turn on the body's natural healing process. It is a non-invasive, drug free alternative to surgery and injections that helps rebuild your damaged tissue fast. Lasting results, non-invasive, life changing! Schedule now! Call 913-851-5188.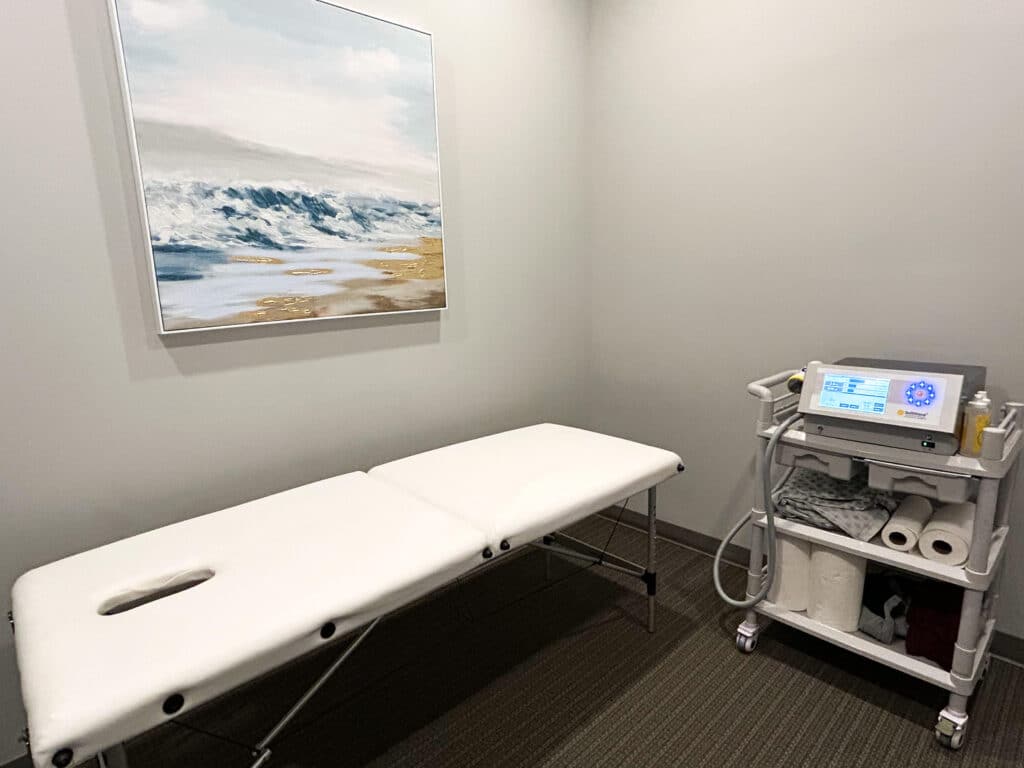 SOFTWAVE THERAPY SPECIAL OFFER
Initial Consultation + SoftWave Therapy Treatment + Complete Recovery Plan
$49 First Session For New Patients
SoftWave Therapy is a state-of-the-art device that generates powerful electrohydraulic shockwaves that initiate your body's own healing response to injury, whether acute or chronic. Over the course of treatments, these waves penetrate deep into damaged tissue to recruit dormant stem cells to the area of injury to activate connective tissue, improve blood supply, decrease inflammation and relieve pain.
This Means
Restoring pain-free activity without drugs
Faster post-surgical recovery
Turning back the clock on your joint(s) wear and tear
Success Rates
SoftWave Therapy stimulates your own stem cells within 45 minutes of receiving treatment
Patients experience a 300% increase in small, medium, and large blood vessels in treated areas within 12 weeks
More than 80% of patients report improvement after just one treatment!

Benefits
Non-invasive

No anesthesia or numbing agents needed

No side effects

Short treatment time

Quick recovery
Immediate & long-lasting results
WHAT CONDITIONS CAN SOFTWAVE HELP?
SoftWave Therapy can treat pain anywhere in the body - joint pain (knee, hip, shoulder, elbow, ankle, wrist and more); soft tissue pain (ligaments, tendons, muscles and tissues); chronic pain (back, neck, nerves, discs, joints, old injuries and surgeries); acute pain (wounds, numbness, aches, and more).
Some of the many conditions we treat as an Overland Park SoftWave provider include:
Hip pain

Migraines

Stress fractures

Sprains

Muscle strains

Tendonitis

Sports injuries

Back injuries

Golf/Tennis elbow

Knee pain

Plantar fasciitis

Shoulder pain

Bursitis
And more!
EVERYDAY WE SUCCESSFULLY HELP
Seniors wanting to improve or preserve pain-free movement
Adults or teens recovering from surgery or injury
Athletes of all ages looking to alleviate pain and return to their sport
Car accident and personal injury cases wanting to prevent lasting issues from whiplash and soft tissue injuries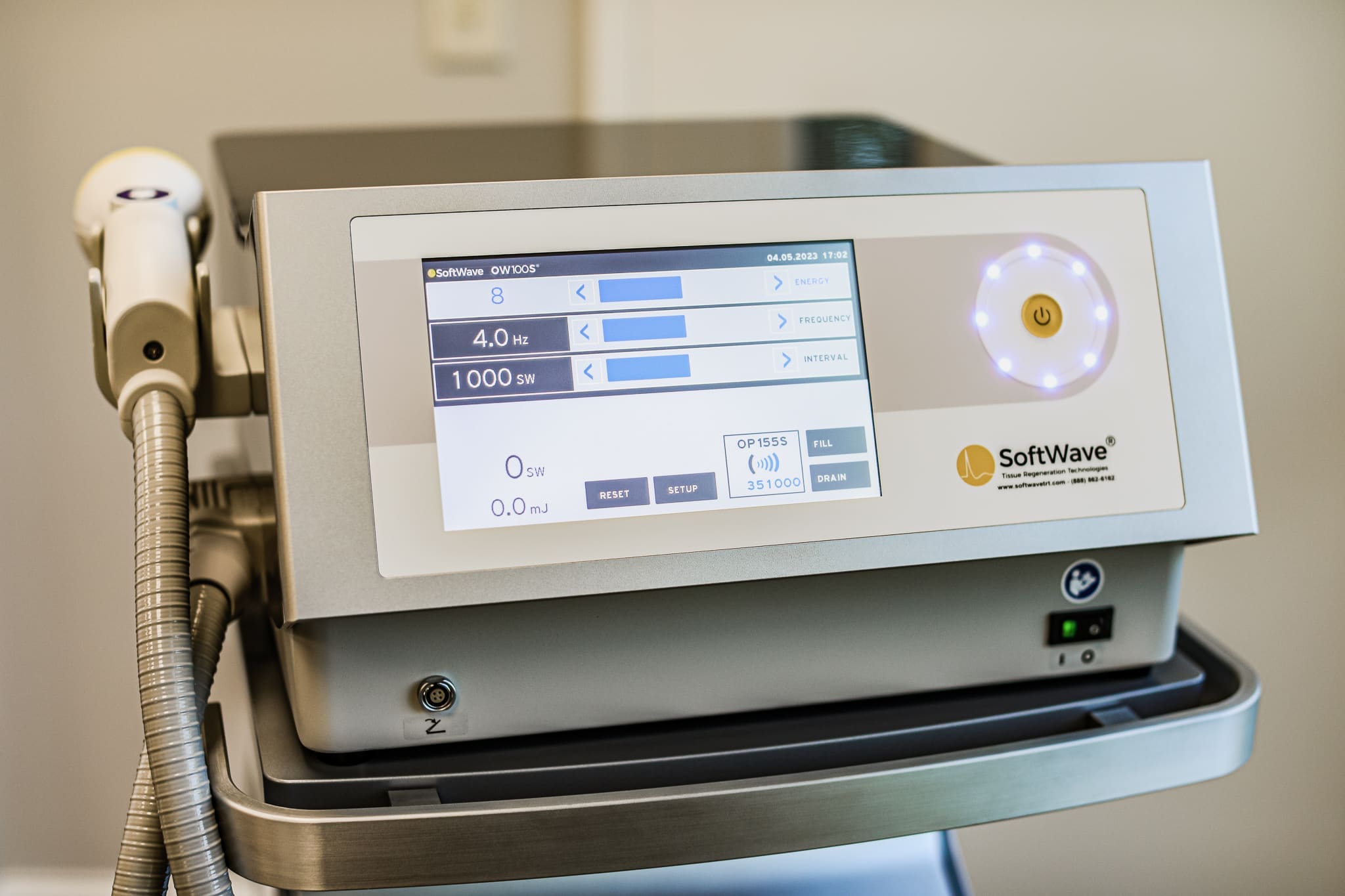 How does it work?
SoftWave Therapy is a treatment involving SoftWave Tissue Regenerative Technology that applies short, frequent, and high intensity bursts of energy into soft-tissue that is injured, scarred, contains adhesions, is painful, or inflamed.
What does a SoftWave Therapy treatment look like?
Your provider will apply a gel to the surface area that is going to be treated. The SoftWave applicator is gently applied to the skin. You will hear a clicking sound as your provider moves around the treatment area. During therapy, you communicate with the provider to identify treatment areas and monitor progress. The treatment on average takes between 5-15 minutes.
What happens on the first day?
After completing new patient paperwork in our Overland Park chiropractic office, you will receive a consult, SoftWave Therapy treatment, and complete recovery plan.
How quickly will I feel results?
Oftentimes immediately, yet the best outcomes occur roughly 12 weeks after the last treatment.
Are there any side effects?
SoftWave Therapy rarely causes side effects. For some, redness and soreness can occur, but usually subsides in a day or two.
Who is a good candidate for SoftWave Therapy?
Most people are good candidates for treatment; however, patients who have a pacemaker or current cancer are not always recommended for treatment. Those who are pregnant can receive treatment to certain areas.
Can I use insurance?
SoftWave Therapy is not currently covered by insurance. HSA/FSA cards can be used.
Can I receive chiropractic adjustments and SoftWave Therapy?
Yes! Chiropractic care focuses more on the skeletal structure and nervous system. SoftWave addresses soft tissue and chronic inflammation. They work well together to help your body heal.
How do I schedule an appointment?
Call our Overland Park chiropractic office at 913-851-5188 and our staff will schedule your appointment at a time that is convenient for you.