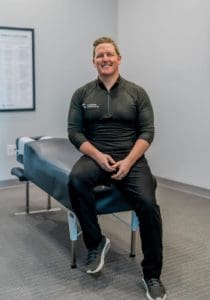 Dr. Justin Grabouski of Grabouski Chiropractic has been treating patients in the Overland Park area since 2010. As a leader in healthcare, we decided it was time to revamp our look. In 2021, the chiropractic practice gave its website a makeover fit for a new year. Here, we answer a few questions about what patients might find on the new site.
Q: Is Grabouski Chiropractic changing?
Grabouski Chiropractic: Absolutely not. The only thing we're changing is our digital footprint. We are always looking for ways to better serve our patients, and wanted to make scheduling, accessing our new patient forms, and contacting us easier and more convenient for you. We will always give our valued patients the same quality chiropractic care in a calming, comfortable, and accessible environment.
Q: What can I look forward to from the new website?
Grabouski Chiropractic: We are really excited to have a more user-friendly website on both desktop and mobile devices. We also plan to expand our blog (more on that in a moment) to provide more information on what a chiropractor can do for those suffering from migraines, back pain, scoliosis, and more.
Q: How can I read what's new on the blog?
Grabouski Chiropractic: Our blog is designed to provide information on chiropractic services, spinal health, and injury prevention. On the blog, we will offer insight on how to best care for yourself in and outside of the office, as well as provide tips on overall wellness. As a leading chiropractor in Overland Park, Dr. Grabouski is excited to give his patients some mental food for thought.
Q: Is chiropractic safe for my entire family?
Grabouski Chiropractic: Absolutely! Dr. Grabouski has served patients as young as three hours old and those well into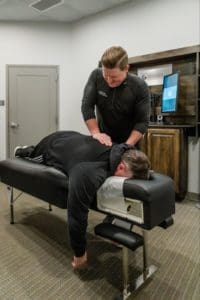 their 90s. Chiropractic is the gentle manipulation of the spine and other parts of the musculoskeletal system. It is entirely noninvasive and an excellent natural pain relief alternative to medication-driven treatments for issues such as postpartum healing, pelvic pain, acid reflux, sciatica, discomfort, and anxiety.
Q: How do I schedule an appointment?
Grabouski Chiropractic: Making an appointment with your Overland Park chiropractor is easy. Simply visit the new and improved website or call or text the office directly at 913-851-5188.
Q: What steps should I take as a new patient?
Grabouski Chiropractic: First, visit our website, where you can learn more about our office and make sure we are the right fit for you. You may schedule an appointment with Dr. Grabouski on our website or by calling the office at 913-851-5188. If you have any questions, our staff are happy to answer them for you. You may also save time during your first appointment by filling out intake forms for both adults and minors online. During your first appointment, you will receive a no-charge consultation with Dr. Grabouski. Depending on your goals and health history, he may recommend x-rays and will discuss treatment options. If you are ready to start your healing journey, you will receive your first adjustment. Dr. Grabouski can provide chiropractic care for conditions ranging from carpal tunnel syndrome and fibromyalgia to pinched nerves and whiplash. If there's a condition you are concerned about, please let us know!
Dr. Justin Grabouski is an Overland Park chiropractor that has been treating your friends and neighbors for more than a decade. The American Institute of Chiropractors has nationally recognized Dr. Grabouski as one of the top 10 in the state. Furthermore, he's made the cut as one of the top 25 Outstanding Doctors in America for the last five years.