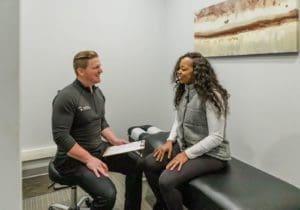 Dr. Justin Grabouski began his career in chiropractic by stepping off his original path, and his many patients are glad that he did. Today, we take a closer look at Dr. Grabouski and his practice with tidbits from a recent interview conducted by his patient and wellness blogger, Jesica Williams of Feel More Gooder.
How did Dr. Grabouski choose his career in chiropractic?
Dr. Grabouski's original plan was to follow a traditional path toward becoming an M.D. However, after a significant baseball injury, he realized that medicine might not be enough. He tells Williams, "Our head trainer said she knew a guy who is a chiropractor and wanted me to give it a shot." After several visits with the chiropractor and noticing a significant difference beyond what he was receiving via injections and pills, the young Grabouski decided to change career paths. The rest is history, and today Dr. Justin Grabouski serves as a family chiropractor Overland Park.
Why would someone contact a family chiropractor?
People choose chiropractic care for many reasons. Many patients of Grabouski Chiropractic turn to us to find relief from pain and its ensuing anxiety. Once in our office, we take the time to listen and help our patients focus on their desired outcome, whether that be pain relief, preventative care, or wellness care. This often begins with x-rays and then a series of chiropractic adjustments. Dr. Grabouski explains that there are several different ways to perform a chiropractic adjustment; his preferred method is gentle and works with the natural alignment of the body instead of using "old school" twisting and cracking. However, he states that the end result is always, "to remove interference from the nervous system, and/or simulate a specific part of that nervous system, in order to speed up and promote the healing process."
What are some things people get wrong about chiropractic?
That it is not safe or can hurt. As a family chiropractor, Dr. Grabouski practices gentle chiropractic adjustments. Science over the years has taught us a lot about how to adjust the spine so that it is safe for patients of all ages. Dr. Grabouski says that his Overland Park office has patients, "as young as 8 hours… up to 98 years old," a fact that his 98 year old patient is very proud of.
According to Dr. Grabouski, you don't have to be in extreme pain or in poor (or perfect) health to experience the benefits of chiropractic. Patients range from computer programmers to construction workers who might have issues from poor posture or overuse. Chiropractic is a safe and effective treatment for many conditions, and family chiropractor Dr. Justin Grabouski invites you to his Overland Park office to find out more for yourself.
When you're looking for gentle, modern care and results-driven chiropractic care, it's time to schedule an appointment with us online at OVPChiro.com.