One of the most common questions we hear in our office is, "Should I use ice or heat?" A good rule of thumb for most injuries: Ice first, heat later. Most injuries cause your body to react with inflammation and swelling. Ice is used to cool down the injured joint or tissue and reduce swelling. Heat is more appropriate to use during recovery as you rehab back to full health. As always, be sure to consult your physician if you have questions.
Ice
Ice is recommended for fresh injuries; inflamed, hot, red or swollen tissue; nerve pain; torn or pulled muscles; and muscle spasms. Never place ice directly on skin. Use a cloth with an ice pack or frozen water bottle. Use ice for 20 minutes on, then 1 hour off.
Heat
Heat is recommended for tight or stiff muscles; over-exertion related pain; muscle knots and cramps; and arthritis-related discomfort. Utilize a heating pad, hot bath, hot towel, etc, periodically throughout the day in short increments.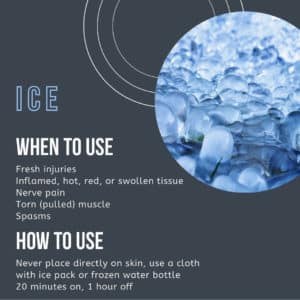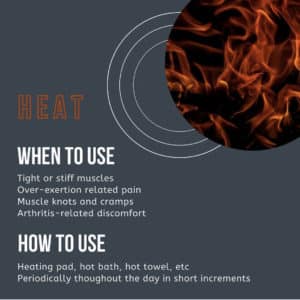 More tips for when to use ice versus heat for specific injuries
New Injuries (less than six weeks old): Dr. Grabouski recommends ice for new injuries because ice helps constrict blood vessels, which lowers pain and inflammation. Heat, on the other hand, may increase inflammation in new injuries.
Chronic Injuries (older than six weeks): Choose heat for lingering injuries as the warmth may help promote circulation and relax tight muscles, which can relieve stiff joints and offer relief.
Strains or Sprains: Using both heat and ice can be beneficial. Immediately after a strain or sprain, use ice to help reduce swelling and inflammation. When inflammation has gone down (usually after the first three days), use heat to help relieve muscle stiffness and improve mobility.
Headaches: If you have a throbbing headache, instead of reaching for a pain reliever like ibuprofen, consider using a cool compress at the base of your skull and around your neck. If you're dealing with a tension headache, choose a warm compress around your neck to help relax tight muscles. Additionally, be sure to schedule an appointment with your Overland Park chiropractor to get to the root cause of your headaches.
Low Back Pain: If your back pain is acute and/or occurs due to a direct injury, use ice first. Once the inflammation has subsided (usually after the first three days), use heat. When you apply heat, it improves the flexibility of soft tissues, movement of muscles, and overall function of the back. If your back pain is chronic, use heat. If you have back pain from exercise or exertion, use ice immediately after to reduce tissue damage, inflammation, and pain. After 24 hours, you can use heat to encourage tissue healing.
Injury Relief & Prevention
If you're dealing with a new or chronic injury, chiropractic can help. A gentle, focused chiropractic adjustment in our Overland Park chiropractic office can help facilitate healing to give you pain relief from neck pain, back pain, personal injury, and more. Schedule an appointment today by calling 913-851-5188.